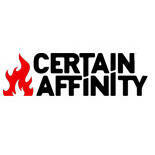 Certain Affinity Games Canada
Certain Affinity (CA) was founded in 2006 as a bootstrap startup with the goal of creating innovative, top-quality action games. CA brings an exceptionally talented group together to form the largest independent developer in Texas and opened a second studio in Toronto, Ontario in 2019. The company's 250+ full-time employees include individuals from dozens of successful game studios, with Max Hoberman, CA's founder and former Multiplayer and Online Lead for the Halo series, serving as CEO.
CA has built a strong reputation as the go-to co-development partner for AAA action titles, with contributions to World of Tanks, Call of Duty, Halo, and DOOM. In fact, the highly prolific studio has been lead developer or co-developer on more than 32 products across 13 different franchises, with combined sales of more than 100 million units. In addition, our Ontario studio was crowned "Studio of the Year" by the 2021 Canadian Game Awards.
Certain Affinity's rare exposure to so many top-tier developers, publishers, technologies, and franchises has helped the company build a one of a kind, world-class team and studio ready to take the helm on original game development. If you're ready to join our talented team, more information is available at http://www.certainaffinity.com